Dark Mexican Chocolate Bars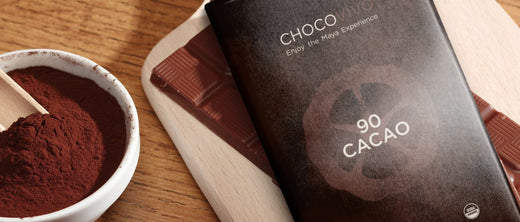 Enjoy the True Taste of Dark Mexican Chocolate Bars
Not all chocolate bars are created equal!
If you are looking to savor the real taste of Mexican chocolates as they used to be 2000 years ago, try our Mexican dark chocolate bars. We make our chocolates from organic beans grown in a family-owned plantation in Tabasco, Mexico.
Enjoy healthier, stone-ground chocolate bars
We make dairy-free chocolate bars using the ancient stone-ground chocolate making techniques of the Mayans and Aztecs. We don't conch, temper or over-refine our chocolates. This helps retain the beneficial properties of the Mexican cacao beans, making our Mexican chocolate bars healthier than most others available on the market. All of our ingredients are grown naturally in Mexico's Tabasco region, which has always been well known for its cacao farming. Even the Mayans and Aztecs would make chocolate from cacao beans sourced from this area. Our chocolate bars are free from any soy, fillers, artificial flavorings and extracts. 
Choose from a variety of chocolate flavors
Now you can enjoy the pure taste of whole bean chocolate made the traditional way! Whether you are looking for fancy dark chocolate, Paleo chocolate bars, or simply the best gourmet dark chocolate, we have a product for you.
We make dark chocolate from organic ingredients without milk powder, soy lecithin or preservatives. This makes our Mexican chocolate taste authentic. If you are looking for a chocolate bar that doesn't contain any sugar, try our unsweetened Paleo chocolate bars. We also offer the best gourmet dark chocolate and a wide variety of fancy dark chocolate.