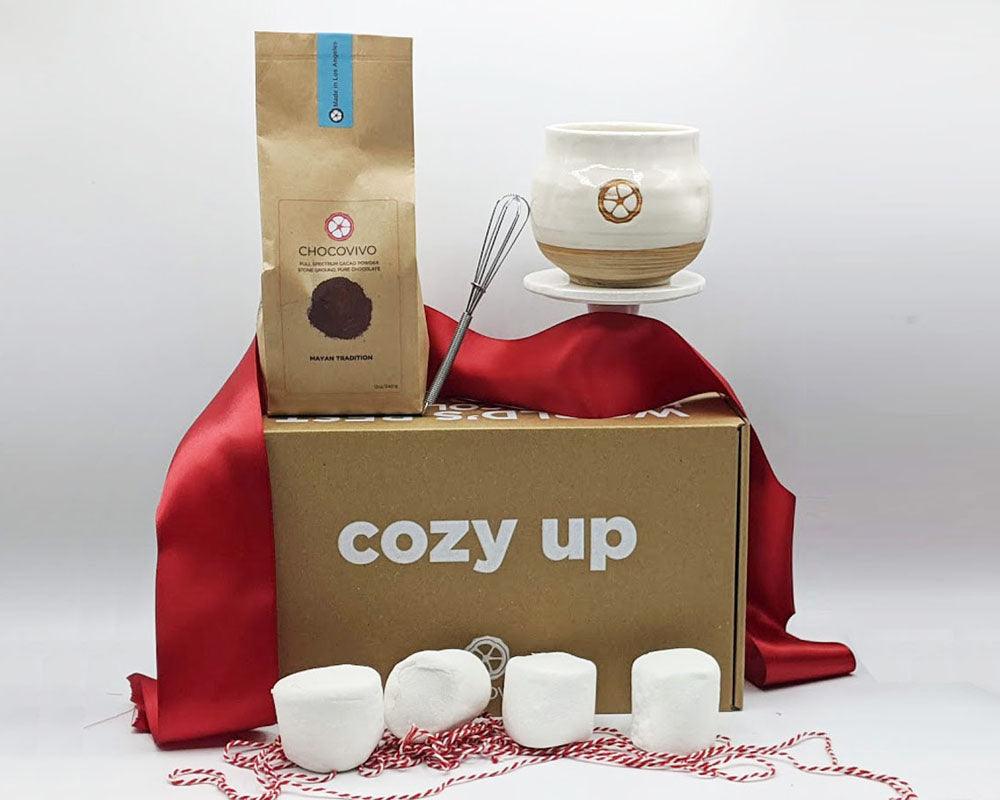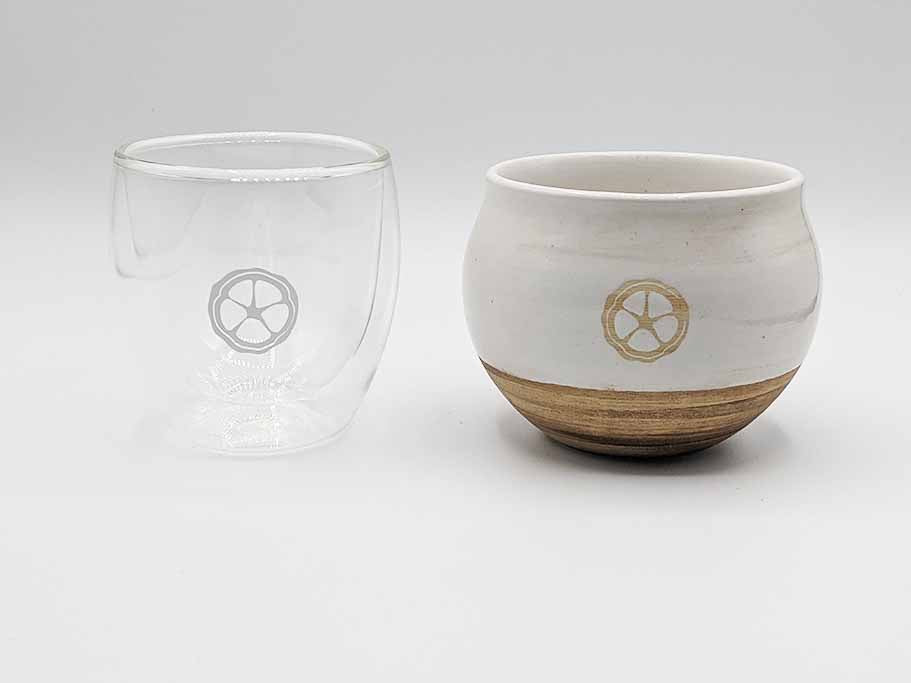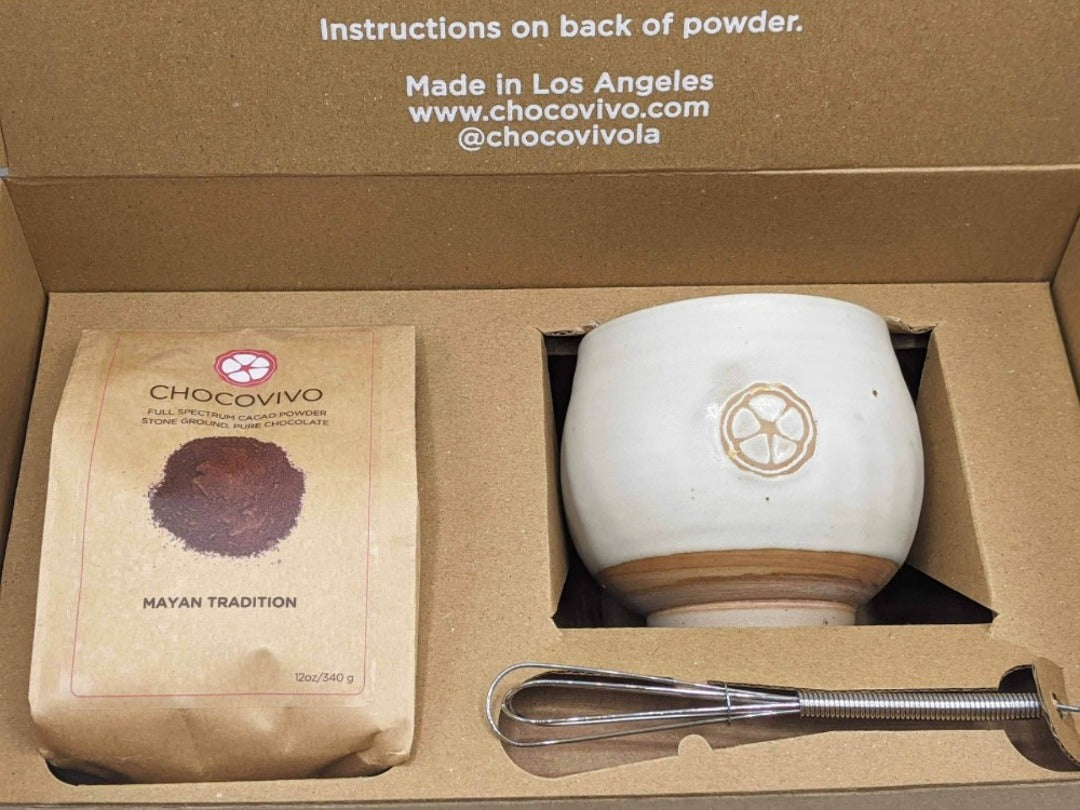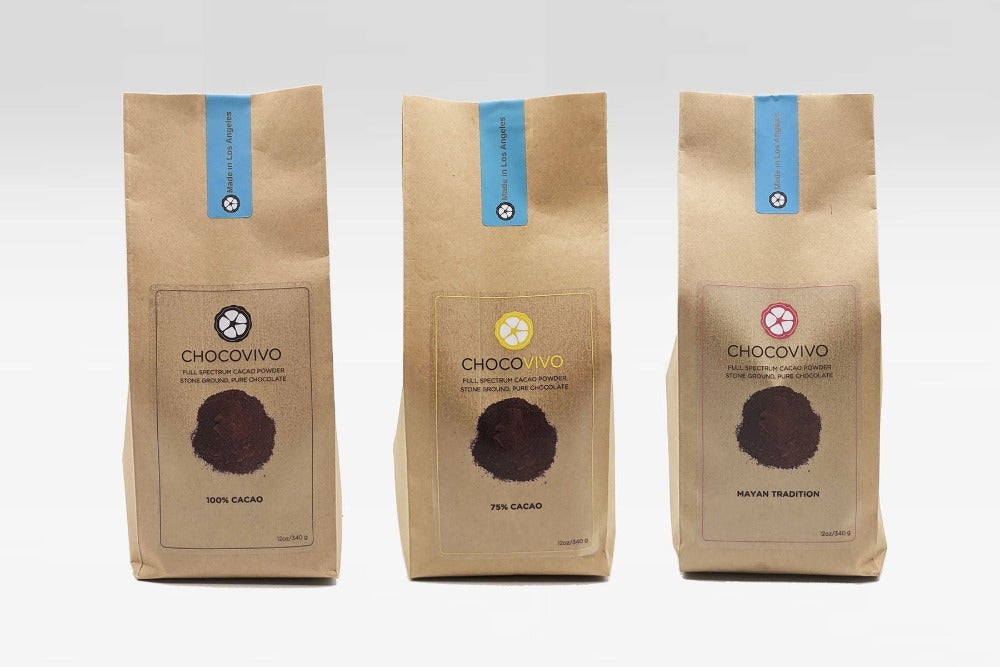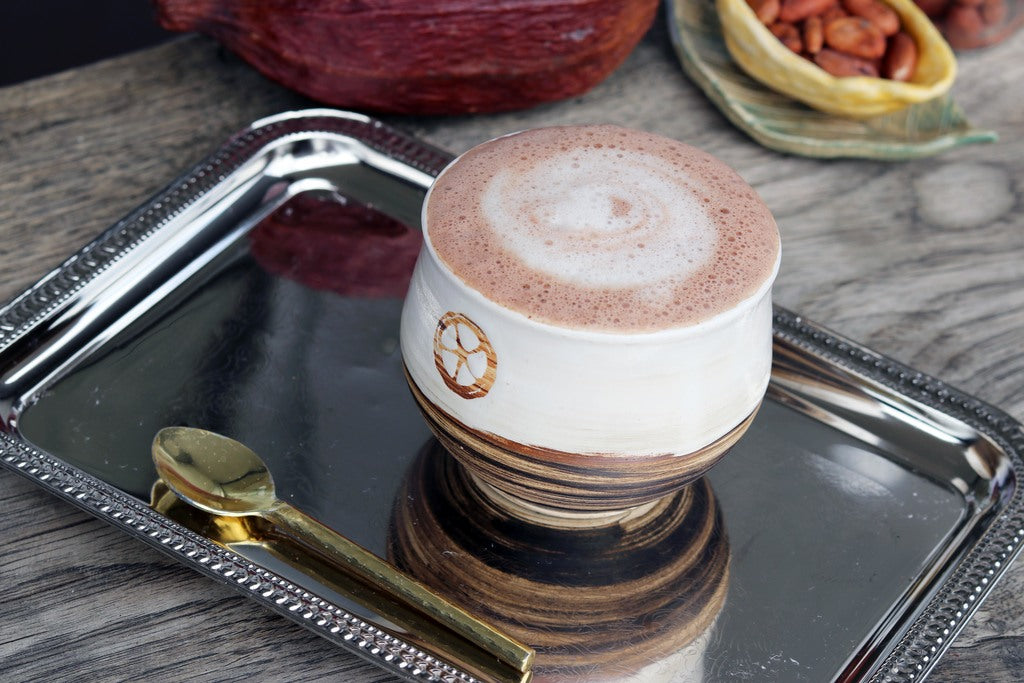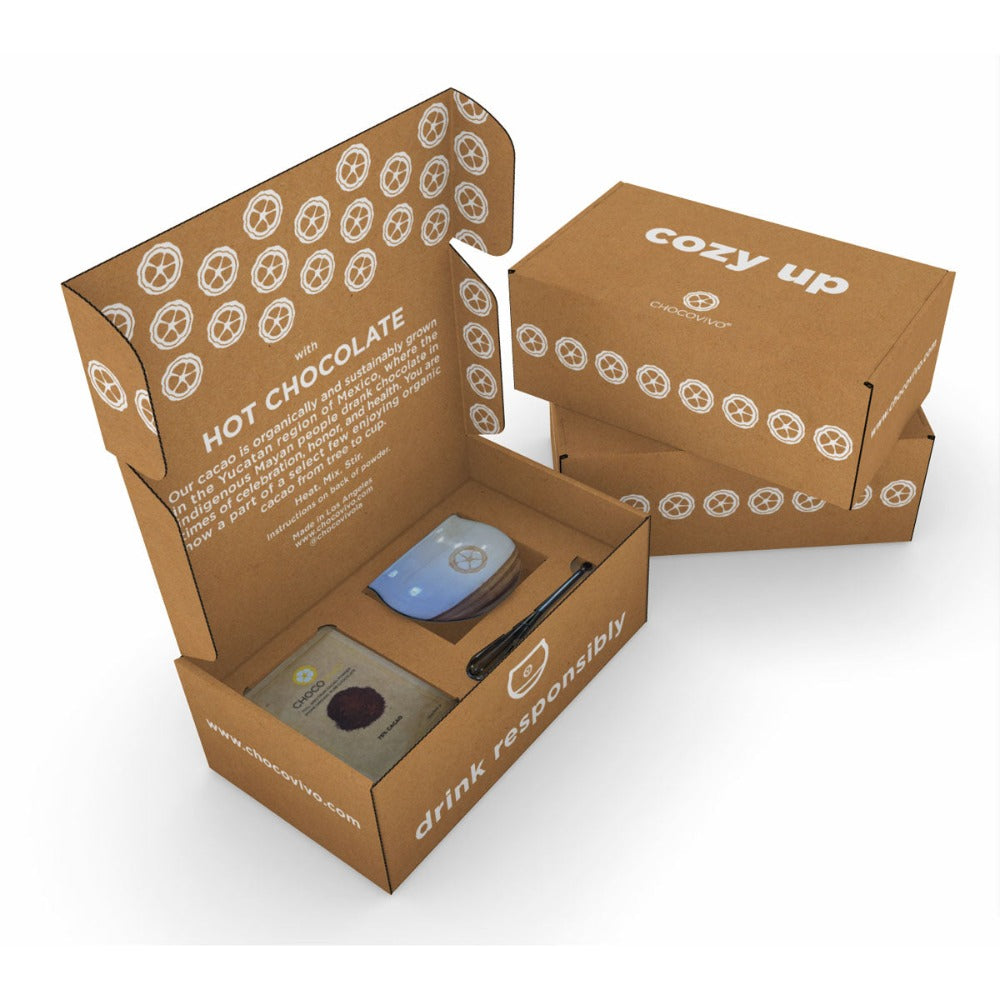 The Ultimate Hot Chocolate Kit
Hot chocolate lovers, this is for you!  After years of customers asking to buy our mugs used for our in-house Hot Chocolate, we finally put together the 'Ultimate Hot Chocolate Kit!' Enjoy the experience of a ChocoVivo hot chocolate with our unique hand-made mugs and a custom box, with all the makings of THE ULTIMATE HOT CHOCOLATE KIT.  DRINK RESPONSIBLY.  

What's Included in the Ultimate Hot Chocolate Kit: 

12 oz bag of hot chocolate - choose your flavor
Cup - Choose between our hand-made ceramic mug or Bodum Double Insulated Glass Cups.  
Mini Whisk (gold spoon in picture not included in kit) 
Complete Instructions on how to make the perfect hot chocolate
Check out our 3d image down below and to the right.  
Earth-friendly:  To reduce waste and packaging, we have made this into a sturdy shipping box, therefore this item will ship as-is unless "Gift Wrapping" is chosen at checkout. All items in here have been carefully selected to be eco-friendly and sustainable.  The pouches used for hot chocolate are made from biodegradable paper and do not have a plastic lining inside.
Please note all ceramic mugs are handmade, therefore, each mug will have its own distinct characteristic. Mugs are made in collaboration with Dudley Harris, a skilled potter from San Antonio, TX.
Hot Chocolate Flavors:
100% Cacao - No sugar. Strong/Bitter. Great for someone who wants to add an alternative sugar. Please be aware this is medicinal and what we serve in our cacao ceremonies. Has natural energy boosting properties without the crash.
Ingredients: Organic Cacao Liquor = Cacao Nibs crushed into a paste.
75% Cacao - Bittersweet.  Preferred by most dark chocolate lovers.  Want it sweeter?  Add 2 heaping tablespoons of sugar as you cook this down to get your drink closer to a 55% - 60% Cacao. 
Ingredients: Organic Cacao Liquor, Organic Sugar. 
Mayan Tradition - Cinnamon & Chilies.  Cinnamon forward and a tiny kick at the end.  Our most popular chocolate at ChocoVivo when making a cup of hot chocolate.  56% Cacao
Ingredients:  Organic Cacao Liquor, Organic Sugar, Cinnamon, Almonds, Three Kinds of Chilies.  CONTAINS ALMONDS
Hot Cocoa - Our version of an instant powder.  This is made with our organic cocoa powder to give you a high-quality instant hot cocoa.  Add a few scoops, some hot water or non-dairy alternative, stir, add some marshmallows and you're ready to go!  50% Cacao
Ingredients:  Organic Cocoa Powder, Organic Sugar 
MINIMALLY FERMENTED >LOWER ACID >MORE ANTIOXIDANTS
Our beans are specially fermented for less than 3 days. This creates less acidity. Research has shown that less days of fermentation means more flavanols are maintained in the chocolate.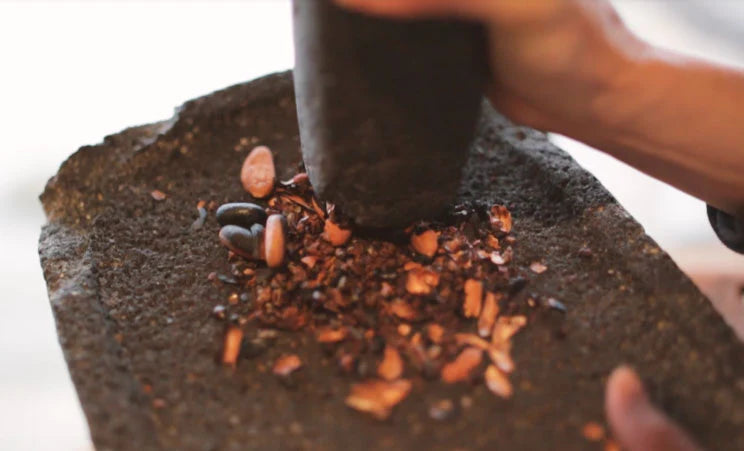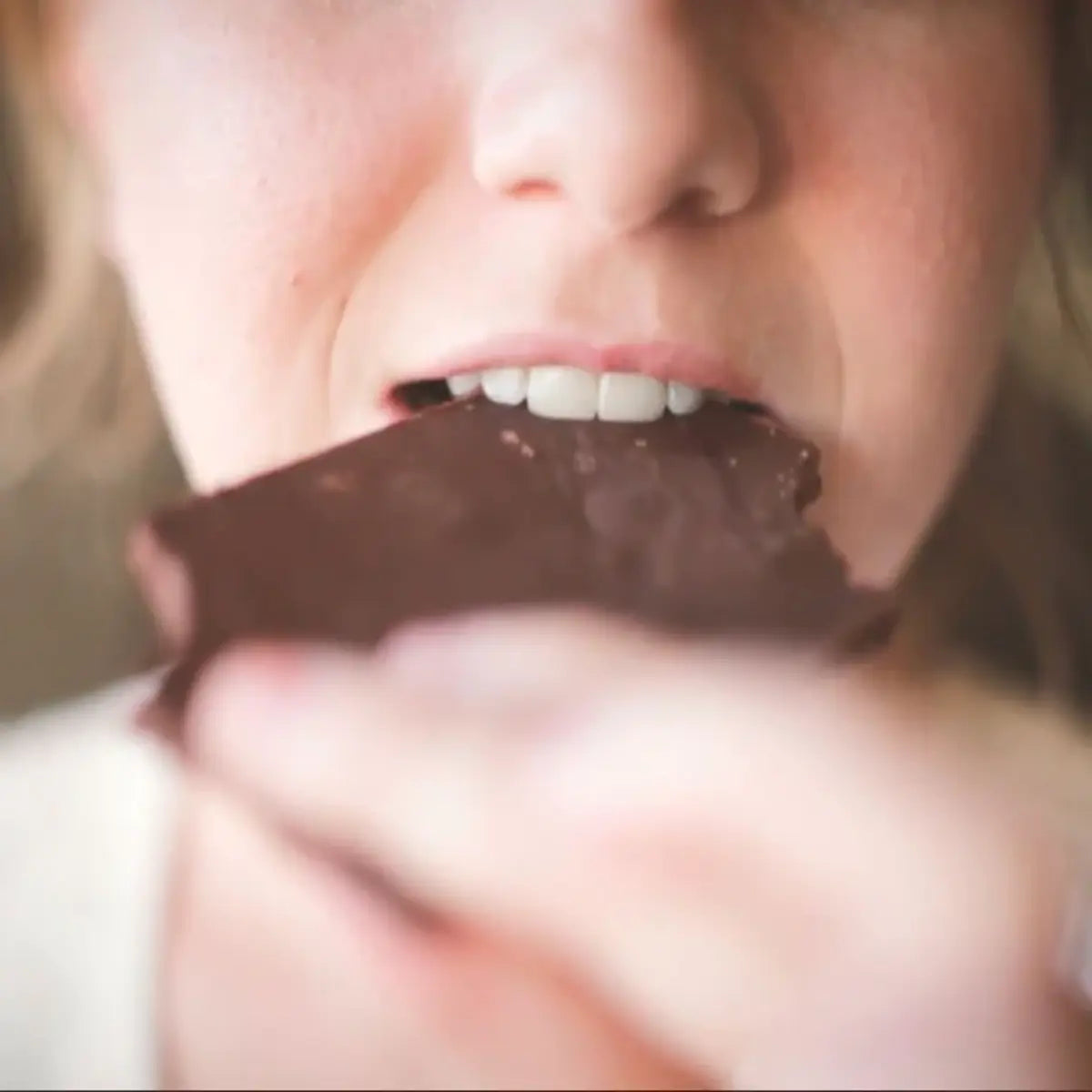 BENEFITS OF CACAO
Packed with fiber, flavanols, protein, calcium, magnesium, zinc, potassium, iron and vitamins B1, B2, B3, B5, B9 and E.

High in antioxidants – typical serving size of cacao has more antioxidants than blueberries, red wine, and green tea.

High levels of essential minerals like magnesium. Magnesium helps to promote brain chemistry, build strong bones, and help regulate heartbeat and blood pressure, sulfur, calcium.

Cacao inherently has no sugar inside.
ORGANICALLY GROWN USING SUSTAINABLE PRACTICES
Our beans are organically grown and more than fair-trade. We are continually working with our grower to protect the region and educate people in the area.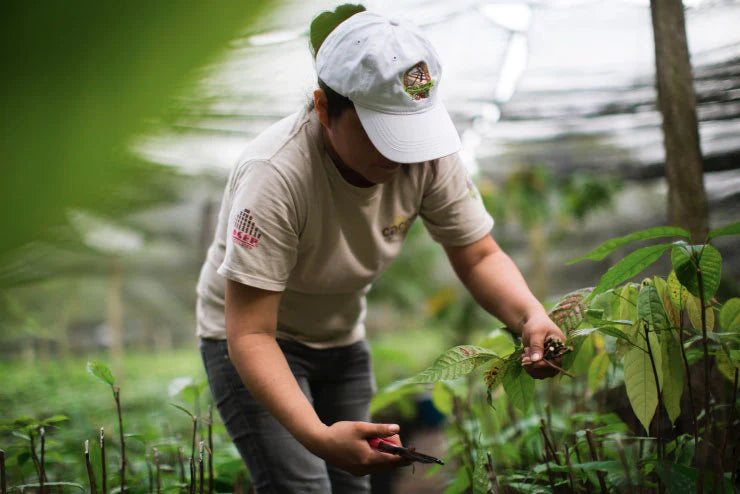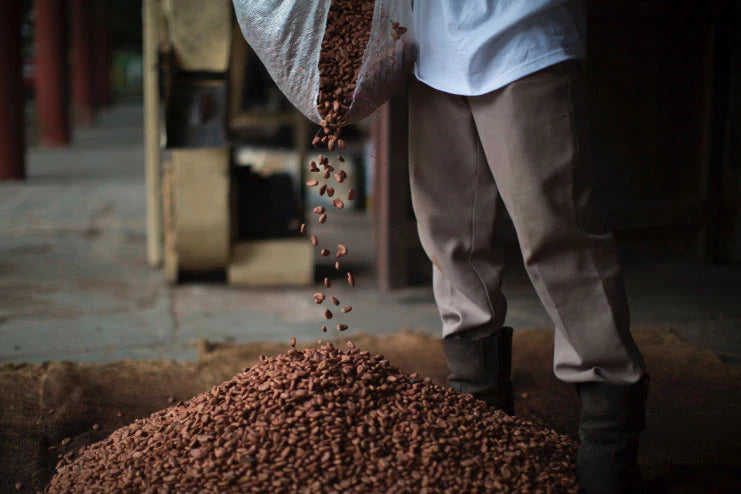 LITTLE KNOWN CACAO FACTS
An ancient superfood packed with antioxidants, fiber, calcium, magnesium, zinc, potassium, and vitamins B1, B2, B5, B9 and E.
Contains zero sugar.
High fat, high protein.
Has zero caffeine. Contains its cousin called Theobromine.
A prebiotic that is rich in polyphenols.

Helps boost collagen production.

Cacao Beginner's Guide